Our Services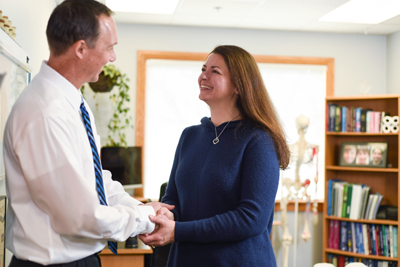 Your body has unique needs, and your chiropractic care should be individualized to suit you. Dr. Schiller starts off with a consultation to determine if you've been to a chiropractor before, and if so, whether there are any techniques you prefer.
We may use one technique or a combination of them to get you better. You'll feel comfortable with our gentle care, and we'll make any necessary changes as we continue along with your customized care plan. We also offer massage therapy right here in our office to compliment your chiropractic care.
How Does an Adjustment Feel?
If you've never been adjusted before, you might be wondering what an adjustment is like. Our welcoming team will put you at ease from the moment you walk in. Dr. Schiller explains everything before starting, so you'll know exactly what you can expect. We'll show you how the adjusting table operates, and only start your adjustment when you're comfortable and give us your permission. After their first adjustment, most of our patients are surprised by how gentle and easy it is!
With so many techniques, we're ready to tailor your care plan to your needs. Contact our office today to get started!
---
Back on Track Chiropractic | (231) 922-0421