About Back on Track Chiropractic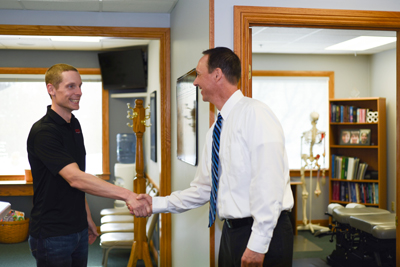 Since 2001, Dr. Bradley Schiller has been helping the people of the Traverse City community get their health back on track! Why settle for feeling so-so when we can help you feel fantastic?
The Back on Track Chiropractic Mission
Our warm, welcoming team is here to help you improve your health and reach your goals, whether you seek to get out of pain or to prevent future problems from occurring.
We'll provide you with all the information and tools you need to be proactive about your wellness. You'll be armed with the knowledge required to make changes in your lifestyle so that you can not only get out of pain but stay healthy for a better future.
Your Family's Health Care Practitioner
We see a wide range of patients at our family practice. Our goal is to give you more knowledge so that you can make better decisions in times of injury or as a part of a healthier lifestyle. From infants and children to the elderly and from pregnant women to athletes, we'll help relieve the stresses of your life. Dr. Schiller will look to the cause of your pain and work to correct subluxations or misalignments of the spine.
Help for Acute and Chronic Pain Sufferers
Many people seek our help because they're in acute pain. We'll help you to get out of pain, even if your condition has been present for many years and you've seen other specialists without results. Dr. Schiller's unique background in massage therapy allows him to address your entire body's needs and our patients see amazing outcomes!
A young girl saw us for the first time to get help with migraines and headaches. She was only 13 but was missing school a couple of days per week due to severe pain. We saw her for about four months, and she didn't have another headache or migraine again. She returned to school and was able to live a normal, active life.
When the subluxation is removed, your body can function better and resolve your pain or discomfort. We'd love the opportunity to discuss what chiropractic can do for your family. Contact our office today!
---
Back on Track Chiropractic | (231) 922-0421